YOUpresent software helps Censeo Consulting Group improve PowerPoint presentation creation process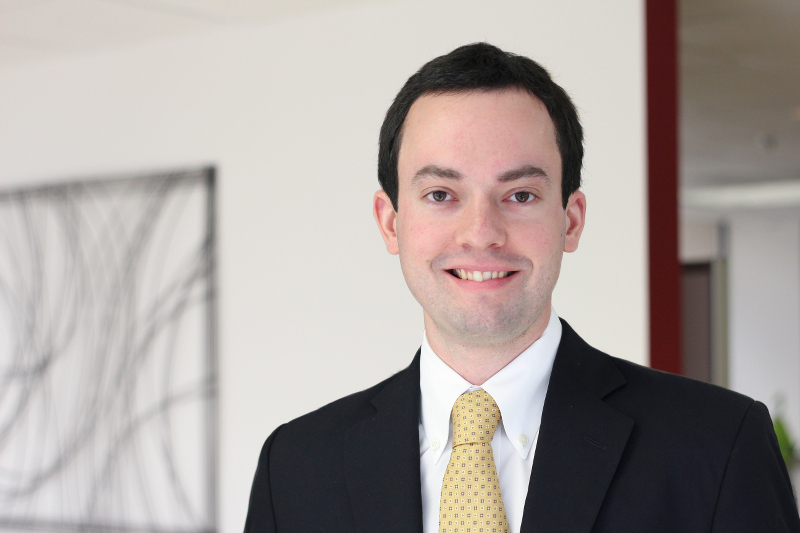 Evan Hodges-LeClaire
Associate, Censeo Consulting Group
Censeo's lead for the DeckPro development project
Censeo Consulting Group is a Washington, D.C.-based management consulting firm that helps its clients run their organisations more effectively to achieve their social good missions. Censeo's consultancy services cover a broad spectrum of fields, including Procurement & Operations, Organization & Human Capital, Strategic IT and Strategy.
PowerPoint is Censeo's primary platform for conveying information to clients, and the firm's consultants spend a significant portion of their time crafting these presentations. Also, as some of these presentations are built using clients' branding and style, consultants must juggle multiple templates and sets of content such as layouts and graphics, increasing potential for inconsistencies among decks.
Censeo recognised the potential to improve the presentation creation process, and contracted YOUpresent to help. In order to meet Censeo's requirements, YOUpresent developed a custom PowerPoint add-in, DeckPro, based on an existing add-in called SwiftPrez. Like SwiftPrez, DeckPro integrates within PowerPoint and appears  as a new tab in the ribbon:
Goals
Help consultants save time by enabling them to create PowerPoint presentations faster
Ensure that all presentations reflect the firm's visual identity and PowerPoint standards
Solution
A custom PowerPoint add-in providing
content management tools for administrators
time-saving tools for users
proofing workflow tools
Results
Consultants create better, more consistent presentations in a fraction of the time it used to take
Do you want to create better presentations faster, too?

Managing branded assets more effectively
The SwiftPrez add-in includes a smart Brand Assets Library feature, which enables users to access branded content such as existing slides, photography, icons and illustrations directly from the PowerPoint ribbon.
Censeo wanted to expand this feature as a way to centrally manage a large portfolio of both Censeo and client-branded content. Without centralised management, the company had struggled with ensuring its consultants used consistent and up-to-date content.
To address this requirement, YOUpresent provided Censeo's content administrators with a sync engine within DeckPro. Administrators can now manage both Censeo and client-branded content on a server, and instruct the sync engine to push new content to all connected users' PCs. In this way, everyone at the firm can access the latest version of any template or asset directly from PowerPoint.
"Historically, the onus was somewhat unrealistically on individual consultants to ensure they used appropriate content. DeckPro makes content so easily accessible that using any other content would be challenging and feel like a waste of time.  The days of trying to figure out how best to disseminate new content via file shares and emails are now a thing of the past." – Evan Hodges-LeClaire
Creating presentations faster
The one-click access to content assets built into SwiftPrez helps users build presentations faster. No more hunting for that elusive slide that a colleague used six months ago, or those Harvey ball symbols which are nowhere to be found.
Censeo requested several additional time-saving features for its specific needs. For example, consultants sometimes have to change the template being used for a given presentation, but doing so manually requires tedious updates of layouts and styles. With DeckPro, all custom layouts are now automatically adjusted when the template is changed, saving users precious time. Users can also choose and easily change the template that is used whenever they open PowerPoint or create a new presentation.
DeckPro also offers Censeo users improved formatting features, with custom buttons in the PowerPoint ribbon to quickly change the formatting of bullets, tables, subtitles and more.
"Thanks to the PowerPoint add-in which YOUpresent developed for us, our consultants can now create better presentations in a fraction of the time it used to take." – Evan Hodges-LeClaire
Ensuring brand consistency and quality
A consistent look and feel in all presentations can be a difficult goal to reach, especially for companies with many users such as Censeo. The standard SwiftPrez add-in helps solve this problem by automatically checking finished presentations for compliance with company style guides.
For DeckPro, Censeo requested an additional support function, with custom buttons in the PowerPoint ribbon enabling users to quickly and easily reference a Censeo style guide or request email support.
Finally, Censeo wanted to streamline the proofing process. Multiple users are often involved in the creation of a presentation, and the workflow can be complex to manage. DeckPro includes a proofing module, which provides a set of tools for the author to manage the status of the presentation. Features include custom comment insertion with resolution management and cross-slide navigation, easy deletion of all slide notes in the presentation, and clearing and setting of file metadata.
"By making it easy and satisfying for users to ensure standards are followed and there is no stray content in their presentations, DeckPro leads to better quality Censeo presentations." – Evan Hodges-LeClaire
A productive partnership
Companies with multiple PowerPoint users often struggle to manage templates and asset libraries effectively, and their productivity and consistency suffer as a result. Many are also unaware of the vast customisation options that PowerPoint add-ins can provide, but Censeo saw the potential.
As a result of the fruitful collaboration between the two companies and the resulting DeckPro solution, building quality presentations is now a faster and more pleasant experience for Censeo consultants.
"We recognized the potential to streamline and improve this process, and YOUpresent was the perfect partner to help us do so." – Evan Hodges-LeClaire
Questions? Call us.
We're here to help. Call us to speak to a PowerPoint expert who will answer any questions you might have.
+44 1189 888 167
Watch a video demo
In this brief video demo, you will discover some of the time-saving features which help Censeo consultants create better presentations faster.