Copyright
The YOUpresent Web Sites, including but not limited to www.gmark.co are proprietary to YOUpresent. All of the text, images, marks, logomarks, and other content of the YOUpresent Web sites ("Site Content") are proprietary to YOUpresent or used consistent with the owner's permission or applicable law or regulation. YOUpresent authorizes you to view, download and print the Site Content subject to the following conditions:
You must adhere to any and all additional terms or restrictions provided within individual sections of the Web sites relating to particular Site Content;
Unless otherwise restricted, you may only do so for your own personal and noncommercial use, or for fair use as defined in the United Kingdom copyright laws;
Downloading Site Content for commercial use is prohibited;
Downloading Site Content for personal Web sites is subject to review and approval by YOUpresent provided your site takes no advertising and has no commercial sponsors, does not charge a fee for services, and does not offer any product or service for sale including your own works, and requests for personal Web site use should be directed to ;
You may not remove any copyright, trademark, or other proprietary notices, including, without limitation attribution information, credits, and copyright notices, that have been placed in or near the Site Content by YOUpresent;
You may not modify the Site Content; and
Any displays or printouts of the Site Content must be marked "© [insert year of display or printout] YOUpresent Limited. All rights reserved."
All parties downloading, printing or using the Site Content in any manner, represent and warrant that their use will be consistent with this license and that they will not infringe or violate the rights of any other party or breach any contract with or legal duty to any other parties.
Trademarks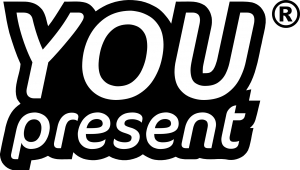 YOU PRESENT is a registered trademark of You Present Limited, registered in the United Kingdom as GB3054467 and the United States of America as 5,337,815. Use of the mark in any form may not be made without prior consent from You Present Ltd. or You Present LLC.