Editable Maps and Heat Maps for PowerPoint
Insert a map from a library of thousands or create visual information with heat maps

Easily insert and edit maps into your PowerPoint slides and optionally recolor them with Excel data to create visually compelling heat maps. vMaps adds a new button to your PowerPoint ribbon which gives you access to more than 3000 vector drawn maps at a single click which can be edited, styled and animated as you need.
Editable PowerPoint Maps
These maps are designed in PowerPoint, for PowerPoint users. Find the map you want quickly from a library of more than 3000 maps, then insert them directly into your slide and:
Edit, delete and add place names
Edit map colors, outlines, fills and effects
Animate place names and countries
Resize maps without loss of resolution
Selectable continents and countries in the World map
The sequence shown here demonstrates just a few of the infinite possibilities: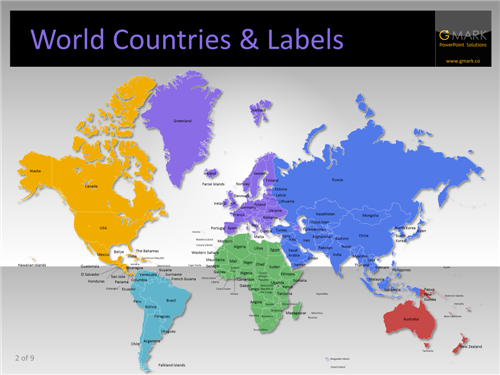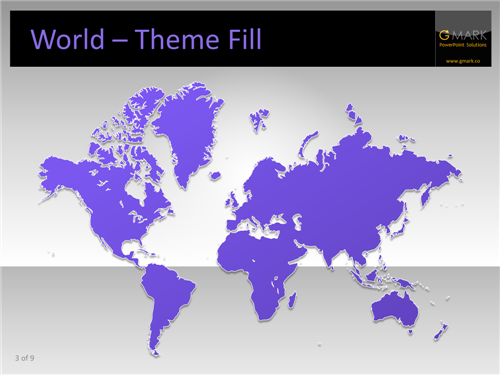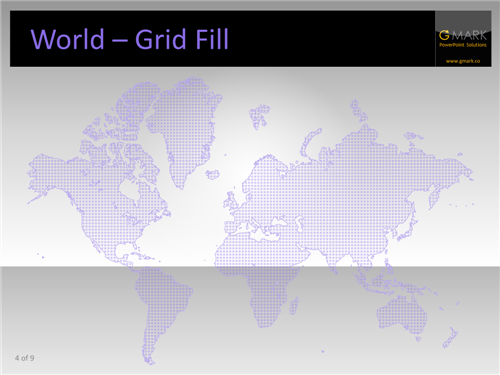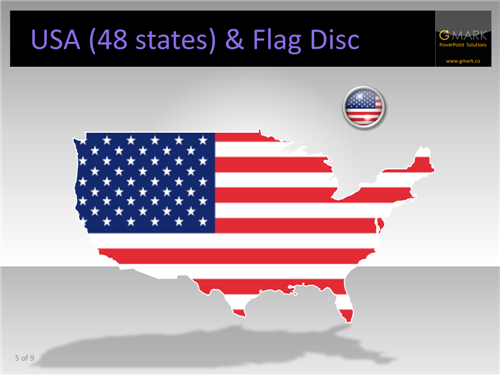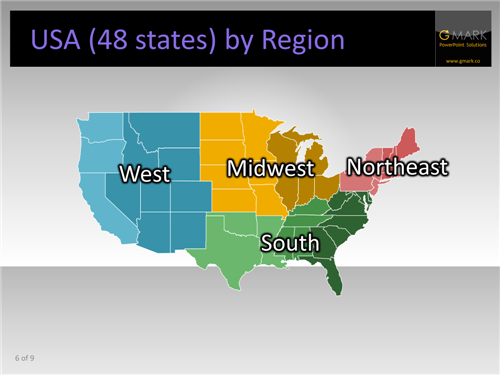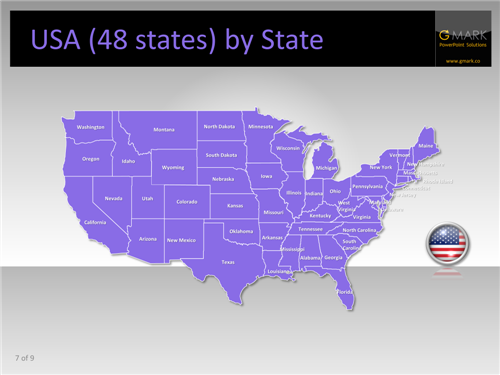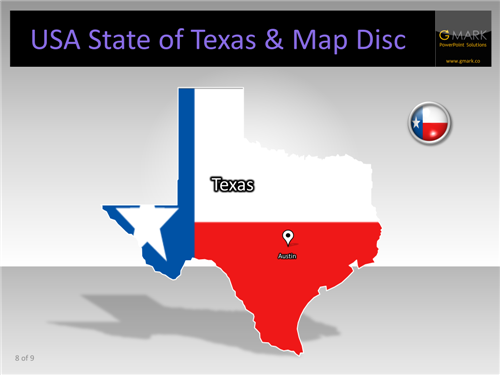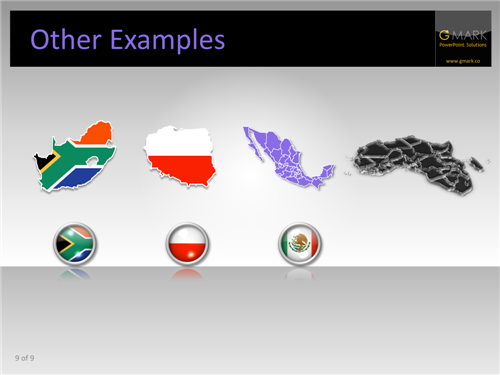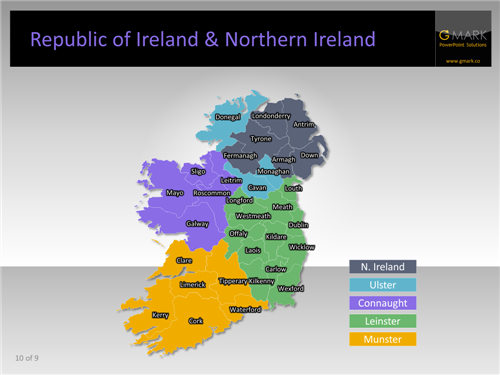 And because all of the maps are PowerPoint shapes, you can even animate them to appear in a certain sequence of make them appear on the click of other objects on your slides.
$149 | 
£99 | 
€115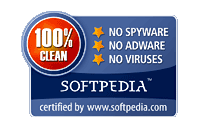 Easy Access
vMaps integrates within your PowerPoint ribbon so that your maps are a single click away. You don't need to search your PC for a presentation containing maps anymore.

Multiple Maps and Styles
Once you've clicked the Map button, an extensive range of maps with a wide variety of options are available at your finger tips.
More than 250 country maps (full list)
More than 3000 USA county maps, available by state
Select by geography: Country, Continent, World
Insert country sub-areas eg. States for USA or Counties for Ireland
Paint styles from existing slide shapes
Fill maps with grid a theme based pattern
Insert 3D flag discs and fill maps with flags
Include labels for selected maps
Insert maps in to placeholders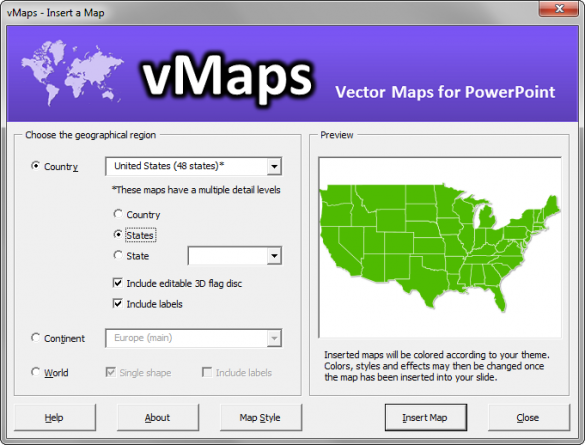 Easy Selection
Once your map has been inserted into your slide, it's really easy to select one or more elements of your map. All maps are named and sorted alphabetically so that you can use the PowerPoint Selection Pane* (seen here on the right) to select what you want. You no longer have to struggle trying to select objects on your slide when they are overlapping or close to each other. The selection pane allows you to:
Select a single object
Select multiple objects (with Ctrl key)
Hide and Show objects
See your selection on the slide
*To enable the selection pane, press Alt+F10 in PowerPoint 2013 or 2010 and in 2007, click Home in the PowerPoint ribbon and then from the Editing group on the far right of the ribbon, click Select followed by Selection Pane.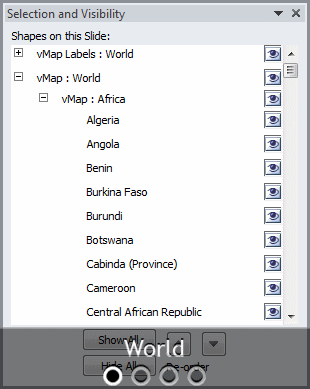 Heat Maps using Excel
vMaps supports
Heatmaps
 which provides you with a powerful productivity tool to automatically re-rolor your maps based on data you define in an Excel file. The Heatmap feature supports two re-coloring modes:
RGB (Red, Green, Blue) values set in your Excel file
Data Scale – a data value is defined in your Excel file plus two colors representing the minimum and maximum values of your scale. vMaps Heatmap then calculates the color for you for each part of the map, based on your data.
Using the Heatmap feature, it's possible to set the color of more than 200 shapes in the World map in around 60 seconds, a task that previously took hours to complete. The Heatmap feature also supports data import into the text labels on your slide.
Watch the video to see how easy it is to color your maps based on either Demo to discover how easy it is to use vMaps.
Watch a Flash Demo
vMaps integrates within your PowerPoint ribbon so that your maps are a single click away. You don't need to search your PC for a presentation containing maps anymore. Watch the 
Demo
 to discover how easy it is to use vMaps.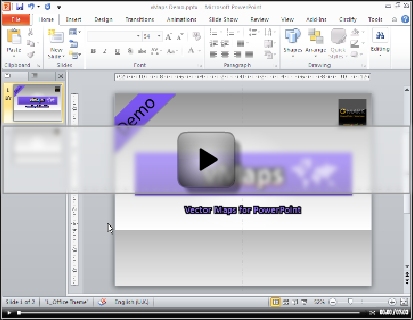 Supported Maps
Please refer to the current full list of maps that are included with vMaps before purchasing. We add new maps on a regular basis which licensees receive for free. If you would like us to consider adding a specific map, please contact us.
Why Buy vMaps?
By choosing YOUpresent for your maps, you benefit from the following:
Low Price : get thousands of maps for the price you pay for a single map from other suppliers
Integrated : Because vMaps appears in your PowerPoint ribbon, you never have to search presentations to find the map you want
Named Shapes : All of our maps are designed for PowerPoint and each slide object is named so that you can find it easily in the PowerPoint Selection Pane
Vector : Our maps are drawn as vectors which means that as you enlarge or reduce them, the edges stay 100% crystal clear
Editable : Edit, recolor, resize, fill with textures and images, change text, hide countries, add animation and interactivity
Use and Distribute : Our license terms allow you to add maps to your slides and then freely distribute them (as long as you are not reselling them). Use them for regular business presentations, touch screen displays, multimedia kiosks, education and more.
Free Updates : As we improve our products, you benefit from a lifetime license offering free updates
Support : Should you need to contact us, we offer real human support by phone or email
Compatibility
Versions of PowerPoint (PC) and Windows
vMaps is compatible with a wide range of PC PowerPoint versions and Windows versions:
Microsoft PowerPoint : 2016 PC (32 & 64 bit), 2013 (32 & 64 bit), 2010 (32 & 64 bit) and 2007. Maps may also be copied from PowerPoint to Excel & Word, retaining their ability to be edited in those apps.
* Mac computers can run vMaps when any of the above versions of PowerPoint are run under Windows on a VM such as Parallels. PowerPoint:mac is not supported natively but you may still view content created with vMaps and use our editable 
Map Template
 products in PowerPoint:mac.
Microsoft Windows : 10 (32 and 64 bit), 8 (32 and 64 bit) 7 (32 and 64 bit) Vista (32 and 64 bit) XP (SP3)
Compare Our Map Solutions
Templates | vMaps add-in | MapPrez add-in
| | | |
| --- | --- | --- |
| | | |
| Best for | Occasional maps without needing to install software | Access to thousands of editable vector shape maps from a single button in the ribbon |
| Installs into PowerPoint ribbon | no | yes |
| Fully Editable Maps & Labels | yes | yes |
| Free Updates | no | yes |
| Auto Color (via Excel Data) | no | yes |
| PowerPoint Compatibility | PowerPoint 2013 | PowerPoint 2013 |
| | PowerPoint 2010 | PowerPoint 2010 |
| | PowerPoint 2007 | PowerPoint 2007 |
| | PowerPoint 2003 | |
| | PowerPoint:mac 2011 | |
| Free Version | no | no |
| Price | $79-$149 | $149 |
| Choose Solution | more » | more » |
Example Maps