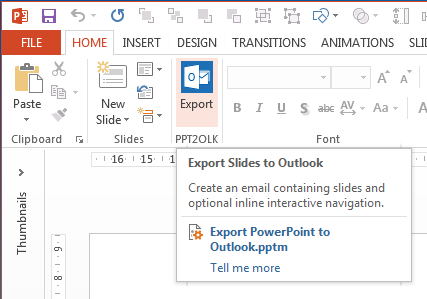 This is prototype of a PowerPoint application called PowerPoint to Outlook which exports slides in a PowerPoint presentation to an interactive Outlook email.
The app (which is implemented in our G-Tools add-in or embedded within a presentation*) provides the user with options to select how slides are exported to an Outlook email.
Option include an optional inline navigation table which appears above the slides in the email, setup of the layout, how text is generated for the navigation hyperlinks and whether hidden slides are included or not. In the example below, we have 10 slides in a presentation.
Clicking the PowerPoint to Outlook Export button displays the options window and when we're happy, clicking OK will automatically build the Outlook email:
In the demo below a PowerPoint deck of 10 slides is used. Clicking the Export to Outlook button displays the options available and once set, a new Outlook email is created, with the optional navigation table above a table containing static images of the slides. Interested in Microsoft Office automation solutions? You can purchase a license for the full version or if you need a custom solution developed, please contact us below.
Need Help with Office Automation?
[contact-form][contact-field label='Name' type='name' required='1'/][contact-field label='Email' type='email' required='1'/][contact-field label='Website' type='url'/][contact-field label='Comment' type='textarea' required='1'/][/contact-form]
*We can provide a custom service to provide you with the PowerPoint to Outlook app embedded within a presentation of your choice.