QR codes are a great marketing tool.
Thanks to the wide use of smartphones, potential customers can simply pull out their favourite barcode scanning app, take a picture of your code and visit your chosen website page. This can be a great call-to-action within your PowerPoint presentation.
But generating the code and putting into PowerPoint means visiting a website, creating the code, downloading the image, inserting it into a slide and even then, depending on how you're projecting the slide show, the resolution of the image may not be suitable.
What if you could Insert a QR code directly from your PowerPoint ribbon? That'd be cool right?

We've prototyped an add-in for PowerPoint to do just that, offering the following:
Multiple image formats : PNG, JPG, GIF, TIF
Scalable vector format
Customisable size in cm, mm, inches, pixels
Multiple coding formats such as QR, 128, 2 of 5, EAN, UAC and many more
Styling options : foreground color and background colour
To offer it as a product, we need to know if there's interest for such a feature and how much you think it'd be worth.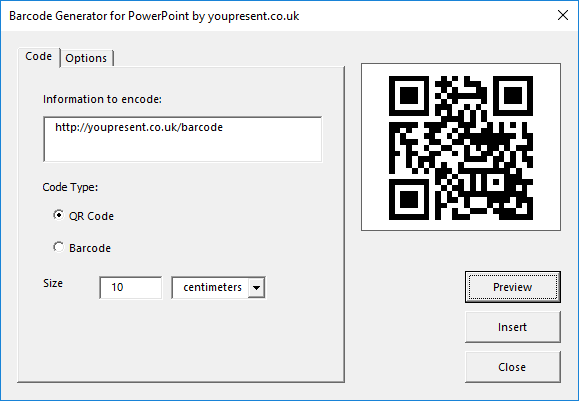 Tell us how much you think this should cost
If you'd be interested to see us release this as a commercial product, please comment below or use our contact form to let us know what you think it should cost and what features you'd like to see.