PowerPoint is a great tool for presenting »caveat«when used properly, by capable authors and presenters! but it's never really been a good application for developing e-learning content.
The oddly named Office Mix is Microsoft's attempt at resolving that gap in PowerPoint's capability. I say oddly named, because Office Mix is [currently] an application for PowerPoint alone so don't go getting excited if you're an Excel or Word lover.
What Does Office Mix Do?
Once you've installed the add-in within PowerPoint 2013, you'll see a getting started deck the first time you run PowerPoint: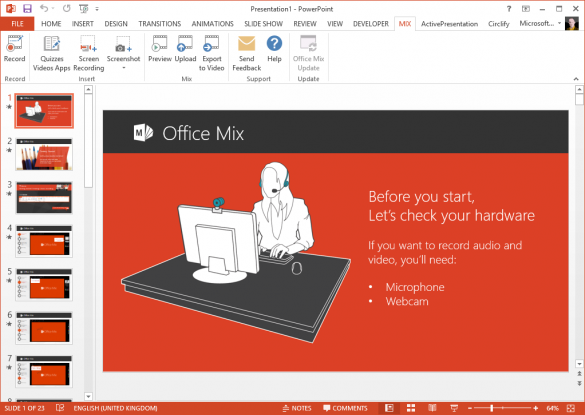 (if you want to open this again later, you'll find it under C:\Program Files (x86)\Office Mix\OfficeMix.potx)
You will also see a new tab called MIX: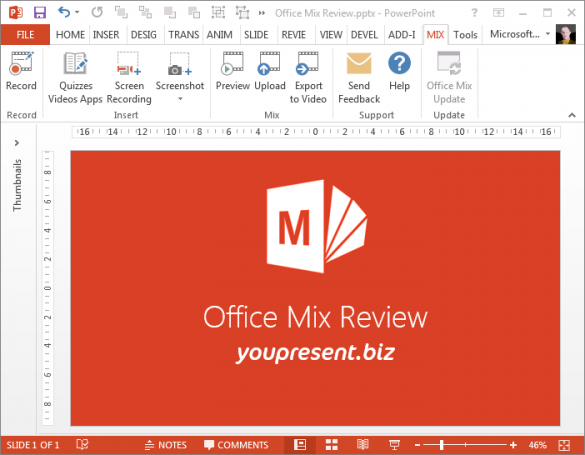 The features that are added are broadly split into three categories:
Live Media Recording
Insertion of:
– recorded webcam video
– microphone audio
– screen captures (images)
– screen recordings (video)
Interactive Apps
Insertion of:
– Quizzes
– Live tutorials
– Video apps
Publishing
– Previewing, Uploading and Converting
Live Media Recording
Clicking the small Record button in the MIX ribbon tab leads to a big surprise. The whole of the PowerPoint interface changes to a full screen black themed skin, synonymous with video recording apps from the likes of Camtasia Studio and others, with your slideshow centre stage.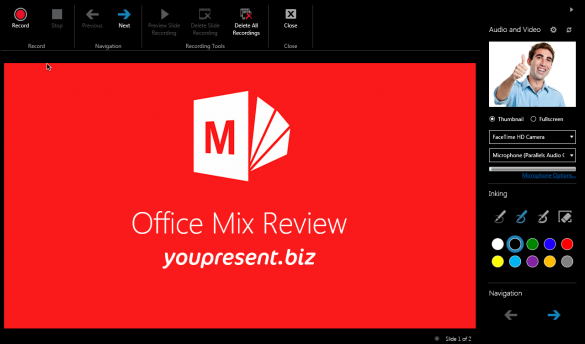 This is a brand new view for PowerPoint and allows you to record your video and/or audio while running through your slideshow, and even allows you to draw on it as you present and speak.
To start recording, simply press the red Record button in the top left of the window and present your content, slide by slide, as if you were in front of your audience. When you're done, press the Stop button and you'll be asked if you want to insert the video into your slides. You can still use the video editing tools in PowerPoint but they are still in their infancy so for anything other than basic cropping, you'll still want to use an external video editing application.
Once you're done recording, you can preview it in the above window or exit back to your familiar PowerPoint view where you'll see the video in your slide (as a thumbnail in this example as that's what we chose to record):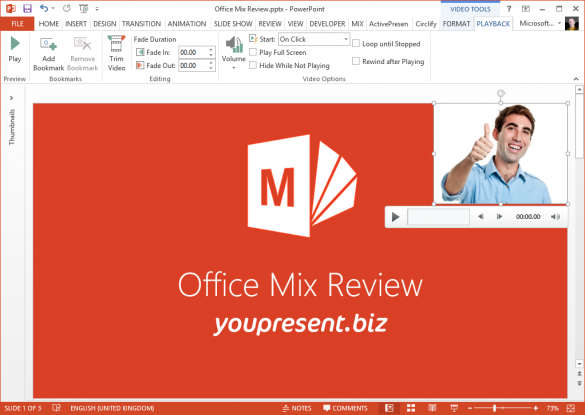 Some good and bad things we noticed here:
– A really cool thing that happens is that as you switch from one slide to another during recording, the live video stream from your webcam is split into chunks corresponding to each of your slides. We like that a lot!
– What we found odd is that the default behaviour of the inserted video object is set to Start : On Click. What? That's just plain silly as this the whole point of Office Mix is that it's used to create free running e-learning courses. It would also be nice for the slide transition time to be set automatically based on the timings encountered during the recording.
– There's probably a good reason for this one but video recording doesn't appear to be possible for slides containing Interactive Apps (see below).
Screenshot & Screen Recording
The Screenshot button is just a repeat of the same button that already exists in PowerPoint 2013 under the Insert tab so we won't go into that here.
However, the Screen Recording button is another bonus addition to PowerPoint. It allows you to record part or all of the screen as a video. This is really useful if you want to demonstrate the operation of a website, an app or anything else that's essentially not static on your desktop.
Interactive Apps
This is where things get even more interesting. Clicking the cumbersomely named Quizzes Videos Apps button takes you the Microsoft's Apps for Office store: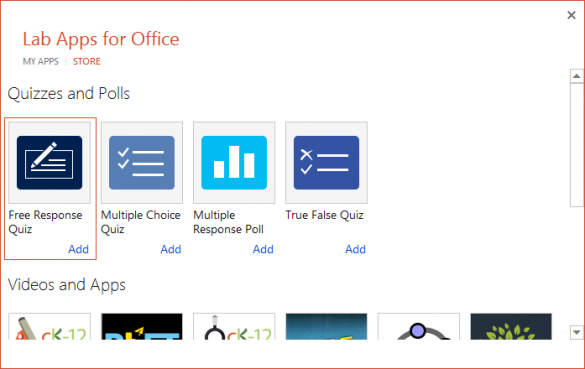 There are two things to note here. Firstly that Microsoft is providing some of the apps in the form of quiz question types. And secondly, that 3rd party Apps for Office vendors are building apps for all kinds of interactive content such as scientific education apps to computer coding apps and even a Web Viewer. No doubt, the list will expand in the future so this will be a key area to keep an eye on.
If you decide to use one of the quizzing apps, you'll need to agree to trust the app and then an Internet-linked editable quiz object will appear on your slide and you can set the question, answers, tips and various other parameters such as the number of retries the user is allowed. We inserted a Multiple Choice Quiz and set it up as follows: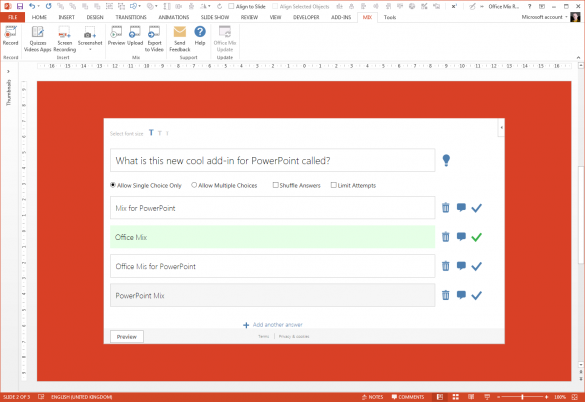 Using this interactive element is the trigger to need to publish the so-called "Mix" on the Office Mix website and the reason you'll need an Office 365 account to achieve this. That's because the interactive elements need to communicate with the Microsoft servers in order to record data from the quiz and provide the reporting and analytics features (we haven't reviewed that yet but will add it to this post when we do).
The Mix Group
When you're happy with the content you've created in PowerPoint, you can use the three buttons in the Mix group on the Mix ribbon tab to Preview the content locally, Upload (publish) it to your Office 365 account (where you can share it privately or publicly) or Export to Video (excluding the interactive apps of course).
When exporting as a video, there's yet another little gem of a surprise. You'd think that this would  be the same as the Export to Video feature in the backstage (File / Export) and while we couldn't see anything really different in the way it exports to video, there is 4th option for the output quality, Full HD (1080p)!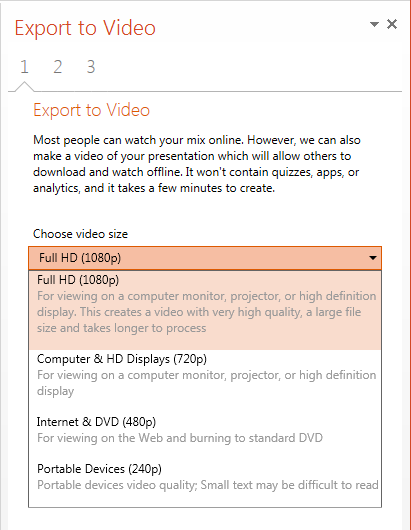 YOUpresent Opinion
Whenever there is a critical mass of several 3rd party vendors providing similar functionality via add-ins or standalone apps that may encroach on PowerPoint, Microsoft usually takes notice and does something to address gaps in its market coverage. PowerPoint has long needed better integrated tools for presenter video and quizzing and Office Mix is a great start. Users may take a while to get their heads around the online model that Microsoft is driving us all towards and adapt to it and adopt it. But there's still a major flaw in the way Microsoft handles time in PowerPoint. The animation "timeline" is a very poor and inadequate implementation for managing the synchronisation of elements on a slide and it doesn't even manage audio and video bookmarks. TechSmith's Camtasia Studio has got a good lead in this respect.
If Microsoft really want to get a slice of the e-learning pie, they need to completely rebuild the timeline management part of the PowerPoint user interface. They might also want to consider supporting industry standards for LMS-based e-learning content such as SCORM and/or AIC so that content can be hosted on the client's preferred LMS hosting platform (but that's probably not their strategy).
So will it replace the likes of iSpring, Adobe Presenter, Camtasia Studio, Articulate Storyline and others? Not just yet, but it's definitely heading in the right direction.
Having said that, the first release of Office Mix will delight users who are just starting to create their own e-learning content. We just hope that the first official release addresses some of the issues we encountered.
Aside from all of the above, Microsoft is eating its own dog food by developing this app. It's a really clever combination of a Visual Studio add-in, coupled with Apps for Office that add new Internet connected panes to the PowerPoint user interface and content apps (e.g. quizzes) to the slides. Perhaps that behind the scenes, Microsoft wanted to make sure that their new app model actually works and it seems it does, very well.
What Does It Cost?
While the claim may be that Office Mix is free, there's never anything really free in life. You'll need to have purchased Office 2013 in one of its incarnations but apart from that, yes, it's free to use regarding the recording facility. You'll also need an Office 365 subscription if you want to take advantage of the web-based quiz reporting and analytics features.
Where Can I Get It?
Office Mix is still in beta so who knows what it will finally look like but the public Customer Preview phase started back in May 2014 and you can download the current version from here:
Visit Microsoft to download Office Mix
Prerequisites
Office Mix only works with the latest version of PowerPoint which is 2013. You'll also need to install the first Service Pack (version 15.0.4569.1507) but don't worry if you're not sure if you have it as the installer will let you know:
Uninstalling
One last thing to note is that Office Mix doesn't add any links to the Start  / All Programs menu in Windows so you'll need to use the Control Panel to uninstall it and it's not prefixed with the usual "Microsoft " name and simply appears further down the list of programs as "Office Mix".
Need Help?
If you need help  with creating presentation, video and e-learning content in PowerPoint, Camtasia, Articulate Storyline, iSpring or need professionally develped macros and add-ins for Microsoft Office, you need to contact us!
[contact-form to='office.mix@gmark.co' subject='Presentation help please (via Office Mix article)'][contact-field label='Name' type='name' required='1'/][contact-field label='Email' type='email' required='1'/][contact-field label='Website' type='url'/][contact-field label='Comment' type='textarea' required='1'/][/contact-form]