PowerPoint Crashes When Using Add-Ins
If you've used PowerPoint 2013 with application add-ins (add-ins with the extension .ppam or the older .ppa), you may have come across the heart-stopping message that stops you from doing anything in PowerPoint: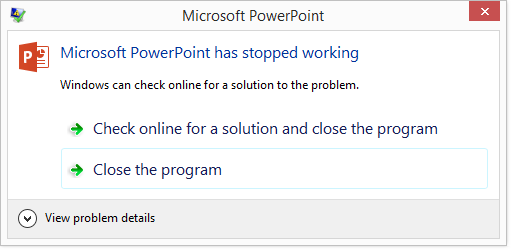 When you restart PowerPoint, you are informed that it was an application add-in that was causing the problem:

This is in fact not true and is an issue in the way PowerPoint reports a crash when loading add-ins!
Furthermore, if you have more than one application installed, PowerPoint will crash again and you will go through this repetitive loop of being asked to disable other application add-ins (in alphabetical order!) until all of them have been uninstalled. PowerPoint 2013 will finally restart, but of course you can't use any of your application add-ins.
What's Going On In PowerPoint?
The majority of users are obviously steered into thinking this is the fault of the application add-in publisher due to the erroneous messages that are displayed. But in fact, the PowerPoint add-in loaded is being interrupted by none other than Kaspersky Internet Security, the very software supposed to protect users from viruses that stop you being productive!
If we zoom out of the first screenshot above, this is what lies beneath: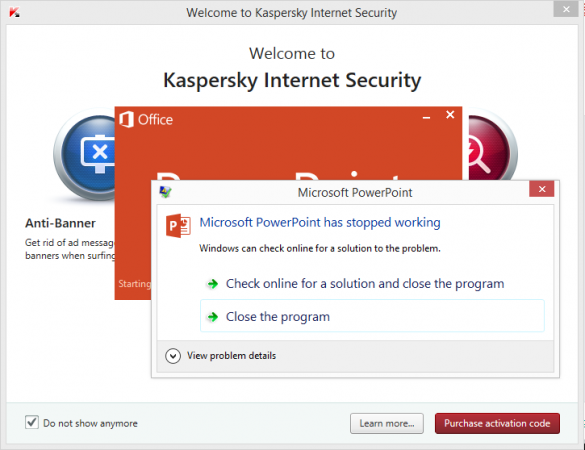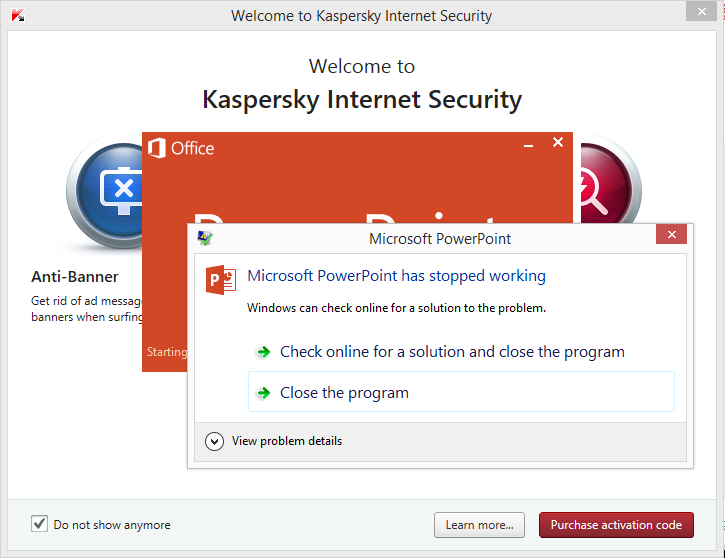 In our test system used in writing this article, we built a PC with a clean installation of Windows 8.1 plus the Office 365 click-to-run version of PowerPoint 2013 (32 bit) with no Office Service Pack or updates installed. It ran perfectly, complete with 5 application add-ins until we installed the free trial of Kaspersky's Internet Security 2015. As soon as that was installed, PowerPoint crashed every time until all application add-ins were disabled.
Microsoft's Fantastic PowerPoint News
After multiple users have commented on both this LinkedIn discussion and this Kaspersky forum thread, without success in getting Kaspersky to address this, we contacted Microsoft to highlight the problem in November 2014. On 16th February 2015, Microsoft published an update for PowerPoint 2013 called KB2956149 (note : at the time of writing this article, the KIS fix is not mentioned but we are informed that Microsoft will add this to the KB description). Among all of the fixes, the anti-virus issue has now been fixed.
Using the in-built Office Updates feature (PowerPoint / File / Account / Update Options) for the click-to-run version we allowed PowerPoint to install all of the latest updates. See this Microsoft article for more information on updating Office 2013 or Office 365.
Once installed, without any changes to the Kaspersky suite, PowerPoint now happily starts without crashing when application add-ins are loaded.
Thank You Microsoft
All that's left to do is to say a big thanks to the PowerPoint development team for fixing this issue. Great job and on behalf of our customers, thank you for getting to the bottom of this one!