Have you ever wanted to publish a PowerPoint presentation online but wanted to protect your content?
This is a test post to show that it's possible to embed a PowerPoint presentation within a web page using OneDrive and a presentation with a modify (read only) password applied to it. The password does not prevent the file from being downloaded but it does prevent it from being edited online or offline unless the modify password is known.
The presentation itself is a rather uninteresting single slide as shown below.
If you try to edit this presentation using PowerPoint Online you will see a message like this: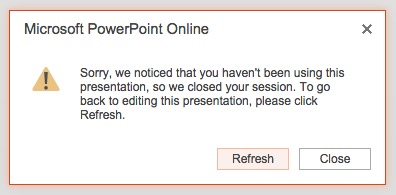 The presentation can be downloaded but even then, the content cannot be edited as the user will see this message when opening it:

How it was created
From PowerPoint (2013 used in this test):
Create your presentation
Click File / Save As
Click OneDrive
Click the Public folder
Click the Tools drop down next to the Save button and select General Options
Create a Password to modify (and confirm it after clicking OK)
Save the file
From your OneDrive account in a web browser:
Locate and click the presentation to open it
Click the File button followed by Share and then Embed
Copy the embed code from the window that appears and paste it to your website: