MP4 is the best?
We noticed something in a Microsoft Office support article that concerned us recently.
In the latest incarnation of Office, PowerPoint 2013 is stated as recommending MP4 as the best video format:


For the best video playback experience, we recommend that you use .mp4 videos encoded with H.264 video
This is good news on the surface because it's not a proprietary standard and is supported by a plethora of software applications and online hosting sites such as YouTube and Vimeo.
Portability
But, all is not entirely clear.
When you consider portability of your presentation i.e. sharing it with other people, either inside or outside of your organisation, you have to consider what they will be using to play it back on. This could be any of the following:
PowerPoint 2013
PowerPoint 2010
PowerPoint 2007
PowerPoint 2003
PowerPoint:mac 2011
PowerPoint Viewer
PowerPoint web app
If we just consider the previous release, then a problem raises it's head immediately. For PowerPoint 2010, the equivalent Microsoft Office support article does not include MP4 in the table of supported formats but does include a caveat note below it:
Videos in the .mp4, .mov, and .qt formats can be played in PowerPoint [2010] if the Apple QuickTime player is installed.
Which to choose?
So, if you want the best video playback experience in PowerPoint 2013 and only in this version, then it makes sense to use MP4. But if you need portability and guaranteed no hassle playback for everyone that you send your file to, we think you'd be better off using the legacy Windows 'standard' format of WMV is it doesn't have third party dependencies which you have to explain to the recipients of your work of art.
Compatibility
The table below is a summary compilation of the Microsoft declared video compatibility for various versions of PowerPoint. There are several caveats regarding playback quality and compatibility. Read more about these in the individual Microsoft Office pages under the References section below.
| | | | | |
| --- | --- | --- | --- | --- |
| File Format | Extension | PowerPoint 2013 | PowerPoint 2010 | PowerPoint 2007 |
| Windows Media file | .asf | | | |
| Windows Video file | .avi | | | |
| MP4 Video file | .mp4, .m4v, .mov | | with QuickTime | |
| Movie file | .mpg, .mpeg | | | |
| Adobe Flash Media | .swf | | | |
| Windows Media Video file | .wmv | | | |
Microsoft Compatibility Checker
Now, given PowerPoint has had a cross-version compatibility checker feature integrated for a while now, you'd think that the above kind of issue would be highlighted when you used it. You'd be wrong. Why? Because the compatibility checker only considers the differences either side of the major upgrade between PowerPoint 2003 and 2010 as stated by Microsoft!
You can try the compatibility checker in PowerPoint 2013 here:
PowerPoint / File / Info / Check for Issues / Check Compatibility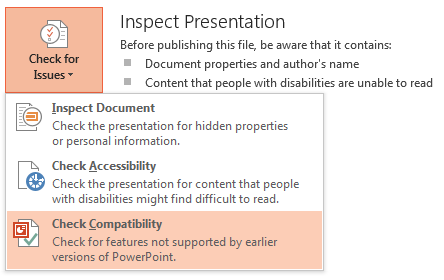 It's a pity that Microsoft don't declare what the Check Compatibility feature is actually checking at this stage because "Check for features not supported by earlier versions of PowerPoint" is not what it's doing!
When we inserted a WMV file on slide 1 and the MP4 version of the same video on slide 2, we got the same unhelpful notice: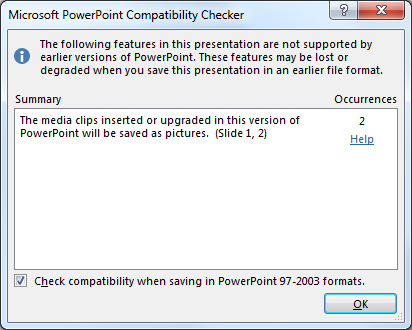 Optimize Media Compatibility
Another feature you could try is to optimize (aka optimise) the embedded media. PowerPoint 2013 includes this feature here:
PowerPoint / File / Info / Optimize Media Compatibility

Because this feature is aimed at creating compatibility for HTML5 publication (a browser technology that aims to replace Flash on devices such as iOS and Android) it's likely that this won't help the backwards compatibility with PowerPoint.
Microsoft References
Compatible audio and video file formats in PowerPoint [2013]
Compatible audio and video file formats in PowerPoint 2010
Compatible multimedia file formats [in PowerPoint 2007]
PowerPoint 2013 Compatibility Checker [between 2013/2010/2007 and 2003]
Optimize Media Compatibility [PowerPoint 2013]