vMaps Support
editable maps for PowerPoint
Using Get Group Names for Heatmap use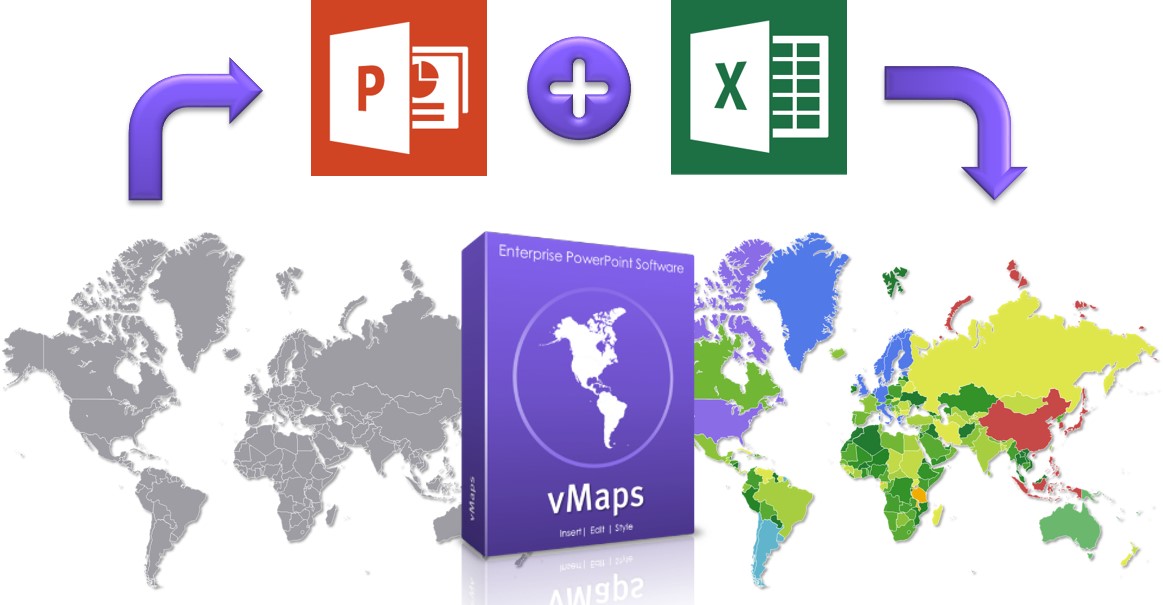 Got one of your own maps?
All of the maps within the vMaps add-in are pre-named and correspond to the free downloadable Excel template that is used for the Heatmap feature.
If you want to use Auto Color for a map (or any other group of shapes) that you have sourced outside of vMaps, you can do this by following the steps below.
Add your map to a slide. In this example, we're using some standard PowerPoint shapes to represent the regions of a country for simplicity:

Make sure that all shapes are named (press Alt+F10 in PowerPoint 2013/2010):

We have renamed ours to keep the example clean:

Group all of the shapes. Note that it doesn't matter if you have nested groups of groups. Auto Color just needs one group (with any name) to process:

With your group selected, click the Insert tab in the PowerPoint ribbon and click the Map drop down button followed by Get Group Names:

This creates a text shape on your slide containing the names of all shapes within the group:

Start Excel and copy/paste the shape names from PowerPoint to create an Excel file containing data as per the example below. Pay careful attention to the exact naming of the first header row: (we've specified pure red, green and blue for each of our three shapes)

Auto Color supports two modes, coloring by absolute Red/Green/Blue (RGB) color and an automatic scale mode which uses a Data Value in your sheet. For the manual mode, columns B:D specify the RGB fill colour (within the range of 0-255 for each) for each of the named shapes. The automatic mode uses column E and calculates the scale from the min and max values detected in the column and then uses each row's Data Value to work out a colour based on the min/max colours you choose in AutoColor (see #13 below).
Back in PowerPoint, with your map group still selected, click the Map drop down button again and click Auto Color.
Click Browse to your select your newly created Excel file.
Click Refresh.
Select your desired Sheet.
Choose the Color Method you want to use (refer to #8 above) and select the min/max colours if using the automatic color scale mode:

Click the Color Map button and all matching shapes in the group are recolored according to the chosen method and Excel data: